On these pages, the team of Primeur Magazine keeps you up to date on the EuroHPC developments. EuroHPC is a joint collaboration between European countries and the European Union about developing and supporting exascale supercomputing by 2022/2023. The EuroHPC declaration, signed on March 23 2017 signed by 7 countries marked the beginning of EuroHPC and of this portal.
null
How to find European HPC research and innovation funding
All H2020 funding for HPC has been transferred to EuroHPC, has it not? All EuroHPC projects are funded fifty-fifty by EuroHPC and participating countries, are they not? The answers may come as a surprise to you: there is still a considerable amount of HPC funding that surfaced in H2020 and for some research projects the EuroHPC funding is 100%. To help you in your quest to find the right HPC funding opportunity we have compiled a list of all open and future EuroHPC and H2020 HPC Calls.
With the latest addition to the overall H2020 budget for 2020, two dedicated Calls (re)-appeared in H2020 - so these are not managed by EuroHPC. The most notable Call is a Call for Centres of Excellence in Exascale Computing with a total budget of 20 million euro.
In EuroHPC not everything is co-financed with national funds. There is a small support project funded for 100% with EuroHPC money, which makes sense. However, also projects under the topic "Stimulating the innovation potential of SMEs" is funded for 100%. This makes less sense, as this would be the exact same percentage as under H2020, so why transfer it to EuroHPC in the first place?
For the bigger research projects for which the Call closes early next year, the percentages differ from topic to topic depending on whether you are a profit or a non-profit organisation.
And, of course, some countries will co-finance EuroHPC projects and some countries will not.
We tried to create a comprehensive page with the most important details.
If you need more information, feel free to consult us.
Be sure to always consult the official documentation before you start working on a proposal.
We try to keep our information page up to date. So check in regularly at http://eurohpc.eu/activities .

Latest news
Benchmarking Fugaku and Summit: a revealing process
Almere, 2020-06-22 - Primeur Magazineinvited Jack Dongarra from the University of Tennessee in its virtual studio to talk about the new and already 55th edition of the TOP500 that was released at ISC Digital 2020 on June 22, 2020. Jack Dongarra primarily focused on the benchmarks that have been run on the new number one machine amd compared them with the results on the number two machine. Read further...
Top10 in new TOP500 list completely reshuffled
Almere, 2020-06-22 - ThePrimeur Magazineteam discussed the new edition of the TOP500 list in its virtual studio and especially the Top10 which has been shaken up with the entrance of four new systems, and in particular a new number one machine. Read further...
Symbolic first sod of Bulgarian EuroHPC supercomputer building at Sofia Tech Park
Sofia, 2020-07-02 - The positioning of a supercomputer in Sofia is good not only for the image of Bulgaria, but will also support the development of the economy, attracting foreign investors in the field of high technology. "With the construction of the supercomputer we will establish ourselves as a digital hub in the region." This was stated by the Minister of Economy Emil Karanikolov at an official ceremony in Sofia Tech Park, where a symbolic first sod of the building of the Bulgarian supercomputer, which will be part of the European network EuroHPC, was made. The project for the high-performance machine is implemented by the consortium "Petascale Supercomputer - Bulgaria" with as leading partner "Sofia Tech Park" AD. Read further...
Primeur Live from ISC 2020 - Thursday 2020-06-25
Almere, 2020-06-26 - Primeur Live from ISC 2020 - Monday 2020-06-25 with "Erich Strohmaier is leaving Berkeley, but not the TOP500" and "Asian countries to present their supercomputing portfolio at ISC 2020 Digital" Read further...
Spring 2020 edition of the e-IRG Magazine available
The Hague, 2020-06-29 - The e-Infrastructure Reflection Group (e-IRG) has published a new edition of the e-IRG Magazine. The Spring edition is now available for download. Read further...
Erich Strohmaier is leaving Berkeley, but not the TOP500
Almere, 2020-06-25 - Primeur Magazinehad the opportunity to talk to Erich Strohmaier about the latest edition of the TOP500 list. Erich Strohmaier is leaving Lawrence Berkeley Laboratory but he will not abandon his passion for the TOP500 list, which he described as a fun project. Read further...
Iceland joined the LUMI consortium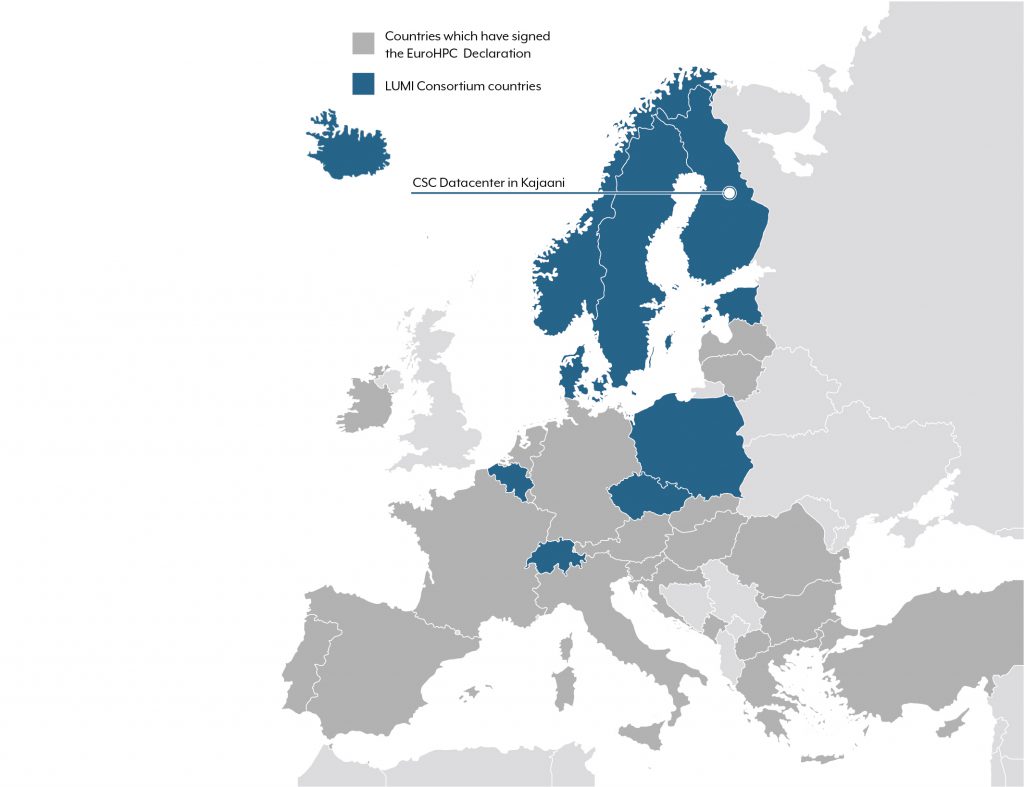 Kajaani, 2020-06-25 - The LUMI Strategic Committee has approved Iceland as the tenth member country of the LUMI consortium. The decision was made in LUMI Strategic Committee's meeting on 27 May 2020. Read further...
Fugaku already used in COVID-19 research
Almere, 2020-06-23 - Ad Emmen fromPrimeur Magazinesummarized in a short video the current research performed on Fugaku in the fight against the coronavirus. Read further...
The new TOP500 viewed from different angles by Erich Strohmaier at the ISC 2020 Digital opening session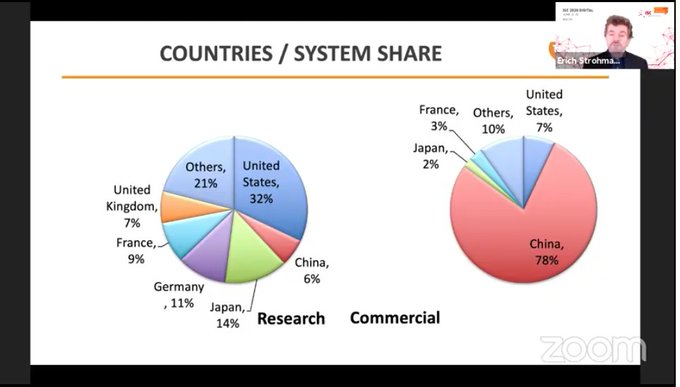 Almere, 2020-06-23 - In his analysis of the new TOP500 edition, Erich Strohmaier who will be retiring from Lawrence Berkeley Lab, stated that the new number one system, the Fugaku machine at RIKEN, is the 6th Japanese system that made it to the number 1 rank in the TOP500. The machine has been built and made in Japan. Read further...
Japan's Fugaku gains title as world's fastest supercomputer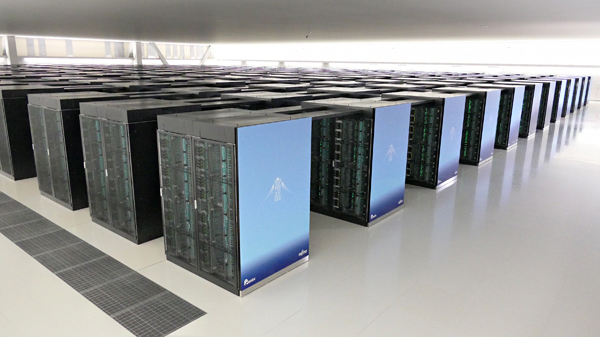 Saitama, 2020-06-23 - The supercomputer Fugaku, which is being developed jointly by RIKEN and Fujitsu Limited based on Arm technology, has taken the top spot on the Top500 list, a ranking of the world's fastest supercomputers. It also swept the other rankings of supercomputer performance, taking the first place on the HPCG, a ranking of supercomputers running real-world applications, HPL-AI, which ranks supercomputers based on their performance capabilities for tasks typically used in artificial intelligence applications, and Graph 500, which ranks systems based on data-intensive loads. This is the first time in history that the same supercomputer has become no.1 on Top500, HPCG, and Graph500 simultaneously. The awards were announced on June 22 at the ISC High Performance 2020 Digital, an international high-performance computing conference. Read further...
How is EuroHPC performing in the TOP500?
Almere, 2020-06-23 - Ad Emmen fromPrimeur Magazineanalysed the EuroHPC achievements in the latest edition of the TOP500. We are just one year away, maybe less, of having supercomputers run that are paid by EuroHPC. What is the current status? Read further...
Tender for petascale EuroHPC supercomputer in Bulgaria
Brussels, 2020-05-28 - The European Commission in Brussels has issued a call for tender on behalf of the EuroHPC JU in Luxembourg for a petascale supercomputer to be located in Sofia, Bulgaria. Yes, Europe is complicated. The call is for the acquisition, delivery, installation, training and maintenance of a supercomputer system that is planned to be installed at Petascale Supercomputer - Bulgaria Supercomputing Centre's supercomputing facility by November 2020. The tender closes on June 22, 2020. Documents must be sent to EuroHPC JU in Luxembourg. The value of the tender is 12 million euro. About 4 million will come from the EuroHPC budget. Read further...
SiPearl's chip will be a platform open to other start-ups to develop accelerators for - An interview with Philippe Notton from SiPearl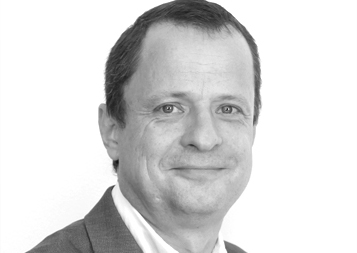 Almere, 2020-05-15 - SiPearl is bringing to life the European Processor Initiative (EPI) project, designing the high-performance, low-power microprocessor for the European exascale supercomputer.This new generation of microprocessors will enable Europe to set out its technological sovereignty on the strategic markets for high performance computing, artificial intelligence and connected mobility.Primeur Magazinetalked with Philippe Notton, SiPearl's CEO and founder, about the company's road map and perspective. Read further...
SiPearl signs a major licensing agreement with Arm for the development of its first-generation of microprocessors
Maisons-Laffitte, 2020-04-21 - SiPearl, the company that is designing the high-performance, low-power microprocessor for the European exascale supercomputer, has signed a major technological licensing agreement with Arm, a global semiconductor IP provider. The agreement will enable SiPearl to benefit from the high-performance, secure, and scalable next-generation Arm Neoverse platform, codenamed "Zeus", as well as leverage the robust software and hardware Arm ecosystem. Read further...
e-IRG Workshop under Croatian EU Presidency will be a virtual conference
The Hague, 2020-04-23 - Due to the evolving COVID-19 situation and the recent restrictions imposed by the different governments in several countries, e-IRG has decided to cancel the e-IRG Workshop originally planned for 25-26 May 2020 in Zagreb as a physical meeting. Instead e-IRG plans to arrange a virtual conference. Read further...
Only half of the EuroHPC countries confirmed they will participate in co-funding EuroHPC projects
Almere, 2020-05-25 - Of the 32 countries participating in EuroHPC, only 16 confirmed they will participate in co-funding EuroHPC projects from the 2020 calls. Two countries said they will not co-fund any activity - the Netherlands and Estonia. The other countries have not yet published their position. The first call already closes in July 2020. Preparation of proposals for that call will be very difficult for proposers that do not know what co-funding they can expect. Read further...
Call for tender for EuroHPC-RIVR VEGA supercomputer
Maribor, 2020-04-28 - The call for tender for the EuroHPC-RIVR VEGA supercomputer is open. VEGA is one of the petascale systems cofunded by the EuroHPC JU. It will be located in Maribor, Slovenia at IZUM. The tender closes at 2020-06-01. The value is 17.256.577,71 euro. Read further...
New EuroHPC JU calls open - kind of
Luxembourg, 2020-04-17 - The two EuroHPC calls have opened yesterday on the H2020 portal. However, they are not opened on the EuroHPC JU site. The calls assume there is co-finaninng from the countries. It is not yet known which countries are willing to provide co-funding. One call is for "Advanced pilots towards the European supercomputers" with a total budget of 74 million euro, half of which comes from central EuroHPC JU funding. The other call is for a "Pilot on quantum simulator" with a total budget of 12 million euro. Read further...
EuroHPC work programme 2020 calls for consolidation type of projects with a budget of 170 million euro
Almere, 2020-03-16 - The EuroHPC JU will open three calls for proposals this year, starting in April. A modest 85 million euro is still available from the general European Union EuroHPC budget. This should be matched by a similar amount from the EuroHPC participation states. Noteworthy is that UK organisations can still participate, but that at some calls it may be difficult for US, Chinese, or Japanese companies to participate, even if they have a strong research presence in Europe. Read further...
Details of the three upcoming 2020 EuroHPC JU Calls for Proposals
Almere, 2020-03-16 - In 2020, the EuroHPC JU intends to launch three Calls for Proposals. The calls will open in April and July. Read further...
EuroHPC JU will move to the Drosbach building in Luxembourg
Almere, 2020-03-16 - The EuroHPC JU will have its permanent offices at the Drosbach Building in Luxembourg, close to the Euro Forum where it was temporarily located. According to the 2020 workplan, it is also expected there will be some permanent staff working for EuroHPC JU. Some 1,3 million euro is budgeted for direct personnel costs in 2020. In 2019, this was operated by the European Commission. At the end of 2020, EuroHPC should be fully staffed with about 15 fte. Read further...